Paris is the city of love, fashion, art, and more! But Paris has not been an interesting and unusual city traditionally associated with beer. The French capital is generally more specialized in wines.

Parisians drink wine, right? Well, right. However, they are increasingly drinking craft beer. The bar scene exploded in France as locals discovered that wine wasn't the only character drink.

More than 1000 small breweries in France now, a beer scene and halls revolving around festivals in Paris. It's hard to know where to start! First, let's see the local beers of Paris. Cheers in advance!
LOCAL PARIS BEERS
La Parisienne
Traditionally in Germany, such slow fermenting and brewing beers provide a long shelf life. This "Parisian girl" is a pleasant bitter with light fruity grapefruit notes. Its producer, Jean Barthélémy Chancel, comes from a wine-producing family and knows the importance of quality materials. For example, Blonde used Viennese barley malt and Aramis hops. Fortunately, there are nine more recipes for this brand.
Deck & Donohue
Two beer-loving friends, Thomas (Deck) and Mike (Donohue) launched their own brands in 2013. Two years later, they had six established recipes, four special editions, and all-season beers. Colors filled with pale golden lights were used to enjoy the summer. This was perfect for the warmer months of Paris too. Thanks to the mosaic hops, they created a lasting sharpness and a sparkling beer perfect for summer evenings.
Société Parisienne de Bière
Fabien, the brewery of the Société Parisienne de Bière, is a perfectionist. So this beer is the result of the quest to make the best beer possible. Produced after the carefully crafted homemade recipe by Brasserie du Pays Flamand, this bitter, floral Batignolle beer is a little juicy than ever, but Fabien's commitment promises a bright future for the brand.
BAPBAP
As a crowdfunding feat, you'll find BAPBAP (French abbreviation for "Brewed in Paris, Drunk in Paris") at 79 Rue Saint-Maur, in one of Paris' trendiest neighborhoods. Its unique products are a great success. It's unfiltered and unpasteurized (very cloudy), heavy, flowery, grain-infused pleasure. We want to know what will happen after BAPBAP.
The most central microbrewery in Paris. Here everything is happening except for the grain – malt breaking, brewing, fermentation, and the growth of the bottling business. Join a guided tour (every Saturday, in French) to see a beer anthem from the ground floor. Or head to their boutique and grab a few bottles of their distinctive, intricate Vertigo IPA made with six different malts and three sherbets.
Brasserie Parisis
Concours Agricole winning gold in 2013, this fine beer from Brasserie Parisis works equally well alone or with food. Amber color finished with a pleasant acidity, full of fruit and malt notes. The brand is more about materials than making a splash of innovation.
Brasserie La Baleine
Bruno Torres founded his 20th arrondissement brasserie in 2013. By the end of 2014, such was his success that he published an online plea for participants to help support his expansion. Currently offering four recipes, a favorite is the Phare [lighthouse], an unfiltered beer with a light lemony taste, good foam, and a strong hit of malt.
La Montreuilloise
Making local produce is great, but preparing a truly authentic beer is even better. From the Nature & Progrès label, brewer Jerome Martinez has adhered to the company's agricultural ecological contract, one of the most respected in France. With a smoky meaty nose and a slightly acidic, smoky yet balanced finish, the taste doesn't compromise like this juicy Smoked Porter. Better than a sugary dessert and an attractive introduction to a good whiskey.
Brasserie de la Goutte d'Or
If there were a prize for the most insistently local beer production in Paris, it would go to Brasserie de la Goutte d'Or. Founder Thierry Roche was one of the first to introduce artisanal beer to Paris and brews his recipes at number 28 Rue de la Goutte d'Or. This Château Rouge is one of his more original flavors: a spicy red concoction with aromas of cinnamon, tobacco, and dried fish. Complex and unique.
Supercoin + Les Trois 8
When Paris' two most beloved beer vendors Supercoin and Les Trois 8 come together, we can only suggest the result. This collaboration between The Supercoin and Les Trois 8 is a favorite. The hops used are American and French types of Cascade and Brewer's Gold. The resulting beer has a long tail and a clear bitterness with intricate malts, which makes it the perfect lunchtime accompaniment.
Kronenbourg Blanc
An aromatized wheat beer made with wheat and barley malt, caramel, orange peel, lemon flavor, and coriander. 5-degree alcohol, 33-centiliter bottle.
Misty orange color. Abundant, dense, and persistent foam. Citrus aromas are dominant in the nose and palate, it is comfortable and refreshing. On the other hand, it is short on the palate and does not leave any marks. During the day, it should be tried alone or with spicy cuisines such as Indian food, and well cooled.
Best Places to Drink Craft Beer in Paris
Thanks to the city's thriving innovative culture, popular new breweries and microbreweries are emerging in numerous neighborhoods, creating a new passion for handmade, uniquely flavored IPAS, Stouts, Belgian-style Krieks, and British-style beers. Not only are these great new places to go for a casual lunch or dinner, they've also made the Paris nightlife scene more interesting. Let's look at the best places in the capital where you can taste the boutique beer.
Le Supercoin
On the 18th there is a bar that really showcases the French beer Le Supercoin. As we mentioned before, it is one of the favorite beer places. There are only three taps, two of them offering great French craft beers, but the bottle menu draws beer fans under the collar. From small producers like Mont Salève, Fleurac, and La Franche to affordable prices and a friendly atmosphere is what a number of customers flock to.
Les Trois 8
Les Trois 8 is a small bar tucked in a small side street in Menilmontant. It is only a few steps away from La Fine Mousse, which is also a popular beer spot. Les Trois 8 is relaxed and comfortable, with a great selection of rotating beers. The faucet selection includes The Kernel in London and Paris's own Bap Bap.
If you're more convincing, how about a huge selection of bottles containing Outland and some great French beers like (Ile de France) and Saint-Crucienne (Alsace)? They host a large number of events and the staff is also welcoming. First of all, the cheese boards are also generous and the vegan pâté is extremely tasty.
La Fine Mousse
This lovely bar offers the best selection of draft beer in Paris. When you combine the 20 beers on tap with a wide range of bottles, you have 150 different beers to choose from. The selection includes some of the darker Belgian and German offerings, as well as some great French craft beers. The staff is friendly and informative so don't be afraid to ask for some help if needed.
Located on the corner of a gentle square and with its sister restaurant just across the road, La fine Mousse is top-notch and you won't find a better selection of beers and atmosphere anywhere in Paris.
Brewberry
A complete destination for beer lovers. The number of beers on offer is mind-blowing. The beautiful location in a student district on beautiful Mouffetard street makes the Brewberry store and bar great places to both relax and peruse their choices. It is imperative to taste one or more very tasty beverages of the type of beer.
Le Bouillon Belge
If you enjoy tasting a great Belgian beer and maybe a few French and German beers, then get ready to head east because this is the Le Bouillon Belge. With over 100 bottles, every Belgian beer will appeal to your whim. The place is not frills but the service is good and the Belgian-style chips come with a killer mayonnaise. Just watch out for these 12% bottles.
La Moustache Blanche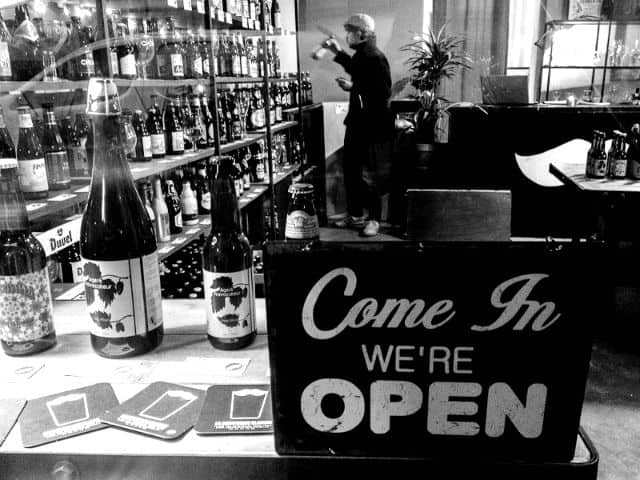 This place is talking about its name, which is new to the Paris beer scene. Tucked into the corner of the Marais quarter, this shop has several hundred varieties of international beer. If you want to enjoy a drink right away, there is a small refrigerator filled with cold beer. If the weather is nice, you can grab a few cold beers and have a picnic on the shores of Canal St. Martin, 10 minutes away.
It seems that Paris is not only a wine city but also quite successful in beer. Try as many different beer flavors as you can on your trip to Paris. You won't regret it. Quite a lot of choices are valid. Bon Appetit and Cheers in advance!
Of course, you will not go without trying wine in Paris, our suggestions for this:
And all the other drinks in Paris:
And delicious Parisian food alongside such a variety of drinks: