There are many activities to do and countless places to visit in Paris. Seine River Cruise Boat Tour is one of the most enjoyable things to do in Paris. You can have fun by participating in various boat tours organized in Paris. Especially in the spring and summer months when the weather is nice.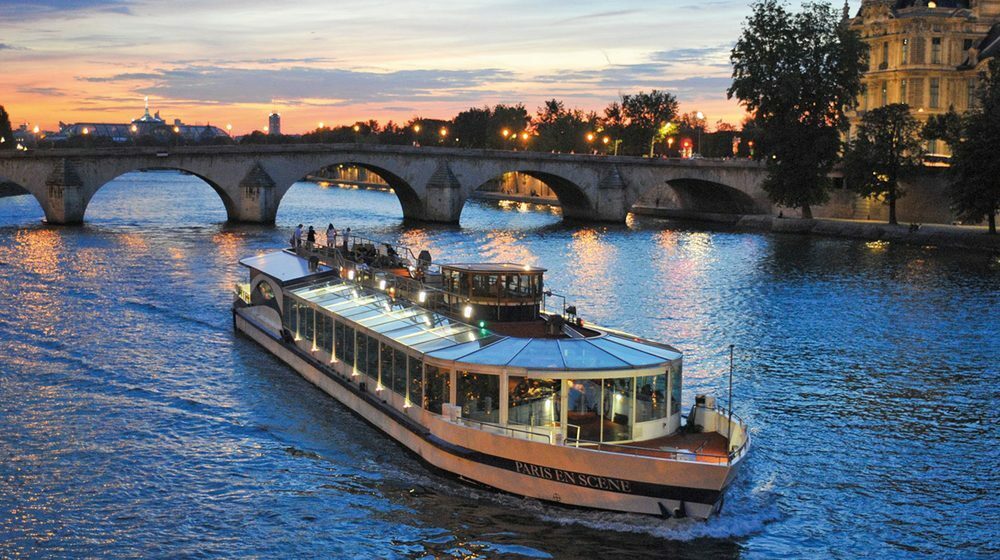 The Seine river cruise is a very popular way to see Paris. And it is always recommended to those who visit the city. These short river cruises allow you to see most of the city's highlights (Louvre, Eiffel Tower, Musée d'Orsay, Notre Dame Cathedral, etc.) while gliding along the Seine.
Many of Paris's most famous and important buildings, bridges, and attractions can be seen from the river. The river viewpoint also gives you a good idea of the city's history, evolution, and architecture. In fact, the Seine coast in Paris was registered as a UNESCO World Heritage Site in 1991.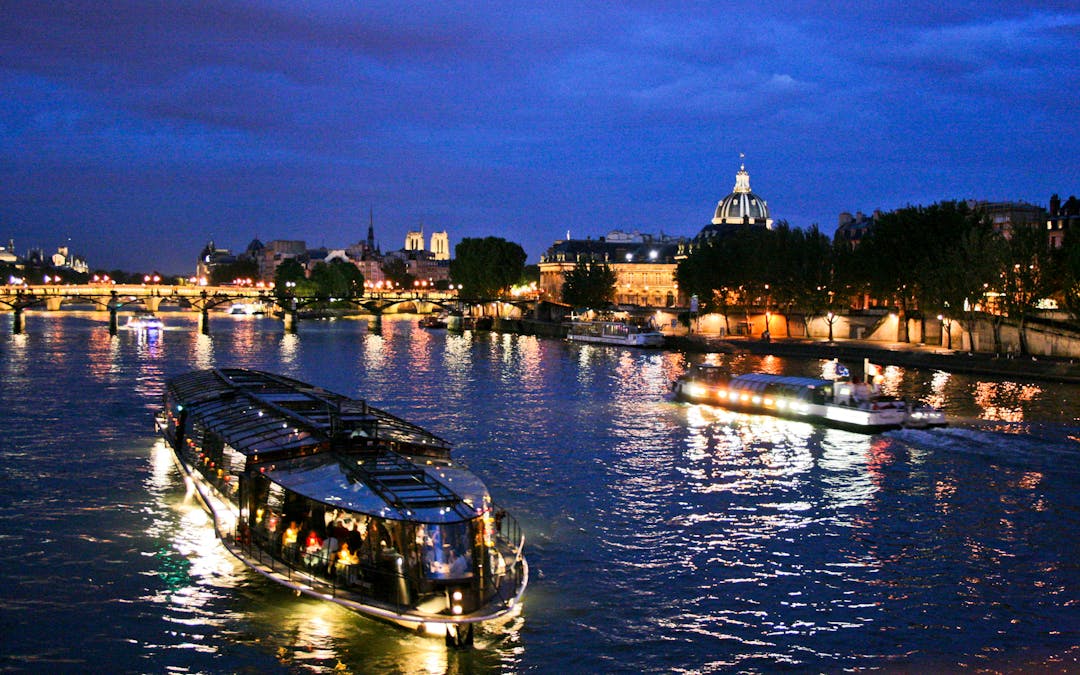 However, deciding on the right cruise can be difficult as several companies run similar tours along the Seine River. In this post, we'll give details about the most popular sightseeing boat tours in the City of Lights and help you decide which one might be best for you.
The tours on the Seine River provide guests with enjoyable moments with their entertaining content while offering the opportunity to examine the city's important buildings from different angles. Let's start the tour with the Paris boat tour contents and the major companies that organize these organizations.
Seine River Cruises: Main Paris Sightseeing Boat Companies
Bateaux Mouches Seine Cruise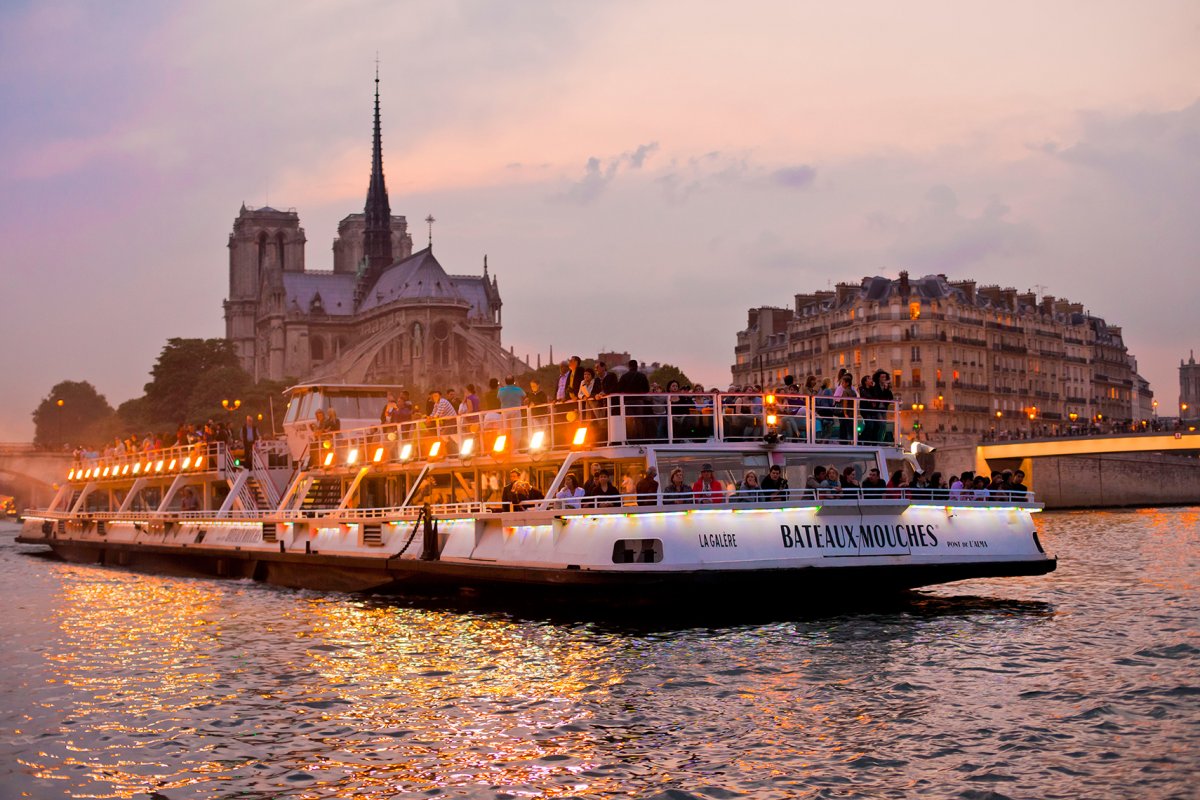 This is the oldest company to operate cruise boats on the Seine River after World War II, and these boats have somehow become a symbol of Paris.
Sightseeing journeys take about 1 hour.
Departure Points
It is separated from the Pont de l'Alma in the 8th district.
Expression
Pre-recorded narration is provided in a variety of languages, including English, via the boat speaker system. They also provide printed handouts in 22 languages.
Pricing and Tickets
Current prices (as of February 2020): adults 14 Euro, children 4 to 12 Euro 6, and children under 4 free of charge.
Adults can add a glass of champagne to their tickets for an additional fee.
Bateaux de Paris Seine Cruise
Bateaux de Paris is the latest company offering regular River Seine cruises. The company only ships between April and September and does not offer them on a daily basis.
Sightseeing journeys take 1 hour and 15 minutes. They also offer shorter one-way cruises and cruises that include stopovers in the Eiffel Tower.
Departure Points
Leaves near the Pont Saint-Michel (12 Quai des Orfèvres) in the 1st district of Paris.
Expression
No narration or commentary is provided on the basic journey. However, you can add a handheld audio guide with commentary for 3 Euros.
Pricing and Tickets
Current prices (as of February 2020): Adults 12 Euros, children 4-11 Euros 10, and children under 4 free of charge.
Tickets are also available for half-cruises and cruises, stopping at the Eiffel Tower.
Bateaux Parisiens Seine Cruise

Bateaux Parisians have a large fleet of medium size boats. Most of the boats they use for their cruises have a lower closed deck and an open-top deck. This is probably the second most popular company in the Seine.
Sightseeing journeys take about 1 hour.
Departure Points
Leaves from Quai de Montebello in zone 5 (near Notre Dame) from Port de la Bourdonnais in zone 7 (next to the Eiffel Tower, left side).
Expression
If you leave near the Eiffel Tower, the narration is provided at the bottom of the boat via separate audio devices available in 14 languages. Live guide commentary is also usually available if you sit at the bottom of the boats.
If you sit at the top of the boat, the boat recently started asking customers to download a free audio guide app on their smartphones instead of giving them individual audio devices.
If you leave Notre Dame relatives there is live commentary in only 4 languages (including French and English).
Pricing and Tickets
Current prices (as of February 2020) are 15 euros for adults, 7 euros for children 3-13, children under 3 are free.
Batobus Seine Cruise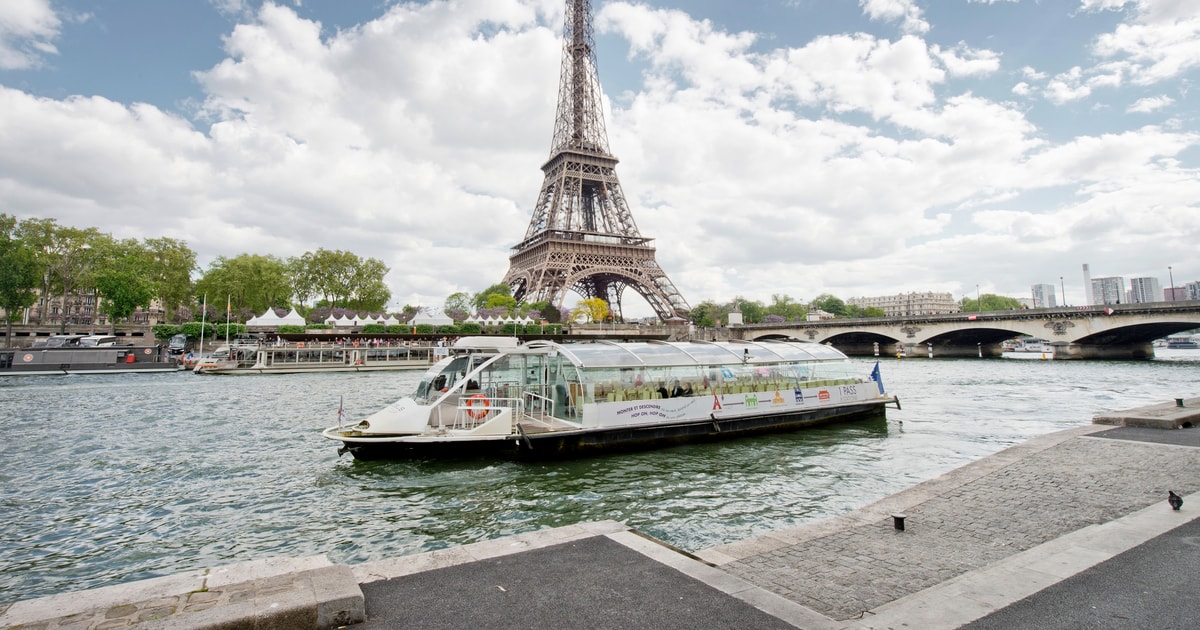 These are hop-on-hop-off boats, all of which form a 9-stop tour near major tourist attractions (e.g. Notre Dame, Eiffel Tower, Louvre). Batobus is not really designed for a sightseeing trip, but it can still be a good economical choice if you want to use Batobus for transportation as well.
If you use the boat for sightseeing, the full tour takes about 2 hours. It stops every 15 minutes.
Departure Points
Boats depart from 9 different stops near the following locations: St-Germain-des-Prés, Notre Dame, Jardin des Plantes, Hôtel de Ville, Louvre, Champs-Elysées, Eiffel Tower, Musée d'Orsay and Beaugrenelle.
Boats stop at each stop every 20-25 minutes, depending on the season.
Expression
There is no narration on these boat tours as they are designed as a boat taxi service instead of a real cruise. However, staff members are on board and can answer questions in both English and French.
Pricing and Tickets
Valid prices for a 1-day pass (as of February 2020) are € 17 for adults (ages 16+) and € 8 for children (ages 3 to 15). Children under the age of 3 travel free of charge. For the 2-day pass, the adult pass is 19 Euros and the child pass is 9 Euros.
Canauxrama Seine Cruise
Departure Points
The shorter Seine River cruises will depart from Ile de la Cité near 19 Quai de l'horloge in zone 1.
Longer Seine River cruises (and canal cruises) depart from Port de Paris-Arsenal (near 50 Boulevard de la Bastille) in the 12th district.
Expression
Live commentary on board by the guide in French and English.
Pricing
The 1.5-hour Parisienne Cruise tickets are currently (as of February 2020) 18 euros for adults, 9 euros for children 4-12 years old, and free for children under 4 years old. Reservation is recommended for all cruises.
Vedettes de Paris Seine Cruise
Departure Points
For a 1-hour cruise, boats depart from Port de Suffren (near the Eiffel Tower) in the 7th district.
Expression
An audio commentary was recorded in English, French, and Spanish. Explanatory brochures are available in 8 different languages (German, Portuguese, Italian, Russian, Chinese, Japanese, Korean, Arabic) that you can take on board the plane.
Pricing and Tickets
The 1-hour uninterrupted Discovery sightseeing cruise is currently (as of February 2020) € 15 for adults, € 7 for children 4-11 and free for children under 4 years old.
There is also a similar sightseeing tour that includes an optional stop at Escale Notre-Dame Pont Marie and a return to Port de Suffren, which costs 16 euros per adult and 8 euros per child.
Vedettes du Pont Neuf Seine Cruise
Departure Points
Boats depart from Square du Vert Galant near Pont Neuf at the end of Île de la Cité (within walking distance of Notre Dame)
Expression
The lecture is provided by live guides with commentary in both French and English. You can also download the company's free app, which provides commentary in French, English, Spanish, Italian, German and Portuguese.
Pricing and Tickets
The website says the tickets regularly cost 14 euros for adults and 7 euros for children 4-12 years old. They currently have deals for adult tickets from 10 to 12 euros and child tickets from 5 euros.
Summary
There are many similarities to the many Seine River Cruises that offer more extensive cruises along the Seine.
First, Seine cruises usually take about an hour and stop and end at the same point unless otherwise noted. Also, although you can go to the companies' websites and check the full map for each, they all complete approximately the same circuit. Most companies run river cruises in Paris throughout the year.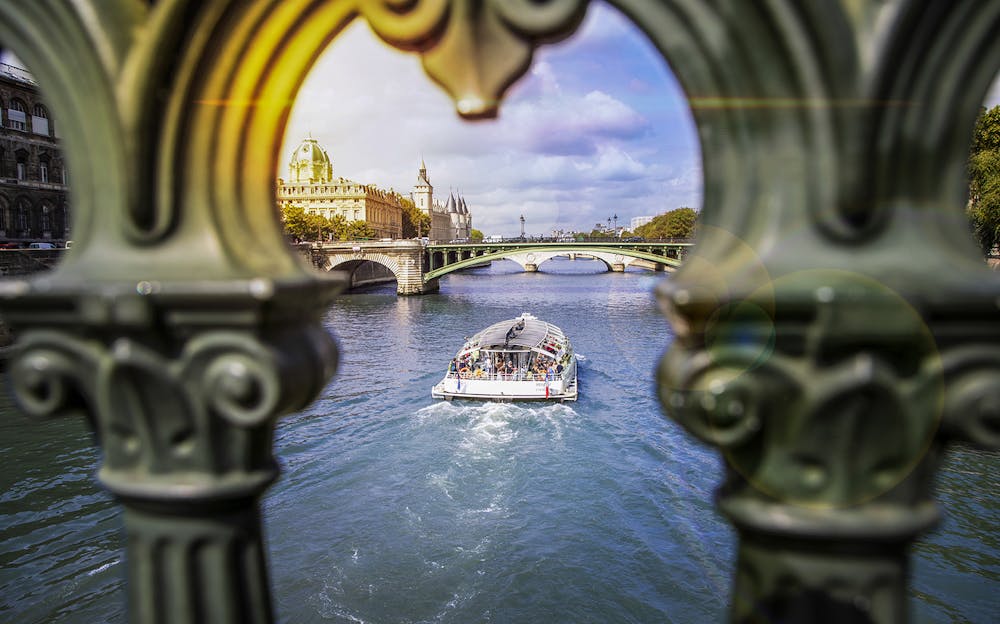 In addition to regular sightseeing cruises, most of these companies also arrange dinner cruises (other meals and special event cruises) if you are looking for food onboard.
While you can buy tickets for most cruises the same day in person near the dock, you may be able to save money by purchasing in advance. Often tickets are valid for 3 months to 1 year following purchase allowing you to choose the time and date of your Seine cruise. If you purchase a ticket or voucher online, be sure to print it out and take it with you to claim your ticket at the dock.
Some of the companies offer cruises seasonally whereas others operate year-round. Those that operate year-round often offer less frequent cruises in the low season. The high season is generally from April to September and the low season is from October to March.
Seine River Dinner Cruises in Paris
If you're looking for a private way to experience Paris, you might want to consider a Seine dinner cruise. Many visitors like to see Paris from the river at night while having dinner on a cruise.
These cruises typically take place on boats with a private glass-enclosed restaurant area so you can enjoy the view but be protected from wind and rain. Some of the cruises are for those who only dine on board, and some carry regular guests.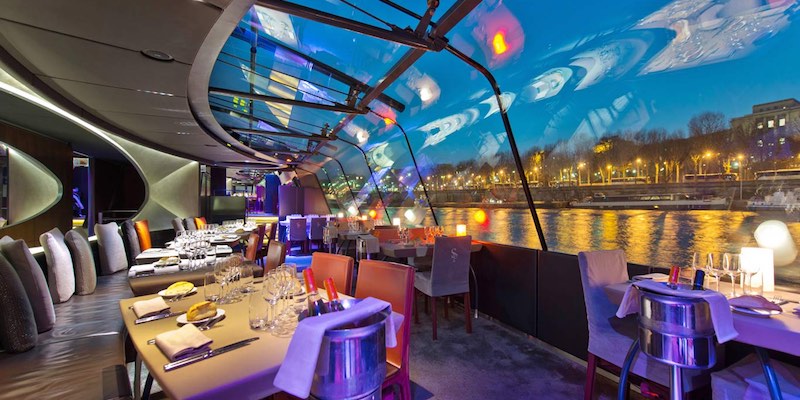 Note that almost all trips can accommodate vegetarians. But if you have a more specific dietary preference or allergy (e.g. gluten-free, vegan, etc.). You'll want to call or email ahead of time to make sure this can be fulfilled.
Dinner Cruise Tour:
Seine River Dinner Cruise Paris Ticket
Combo tours including Dinner Cruise:
Eiffel Tower Tickets Optional Summit, Paris Dinner Cruise
Seine Lunch Tours
If you prefer daytime dining (better for sightseeing), there are several Seine lunch tours to choose from, here are some things we recommend you take a look at:
Lunch Cruise Tour:
Combo tour including Lunch Cruise:
Eiffel Tower Tickets Optional Summit, Paris Lunch Cruise
Seine River Cruises: Private Boat Trips
Most visitors to Paris would like to join one of the regularly scheduled Seine River Cruise from one of the above companies. However, if you are looking for a private or semi-private Seine cruise this can be arranged too.
Most of the aforementioned companies offer a semi-private cruise option (e.g. a private area, restaurant, room, or terrace of a boat) or a fully private cruise option (for private use only or your and your group).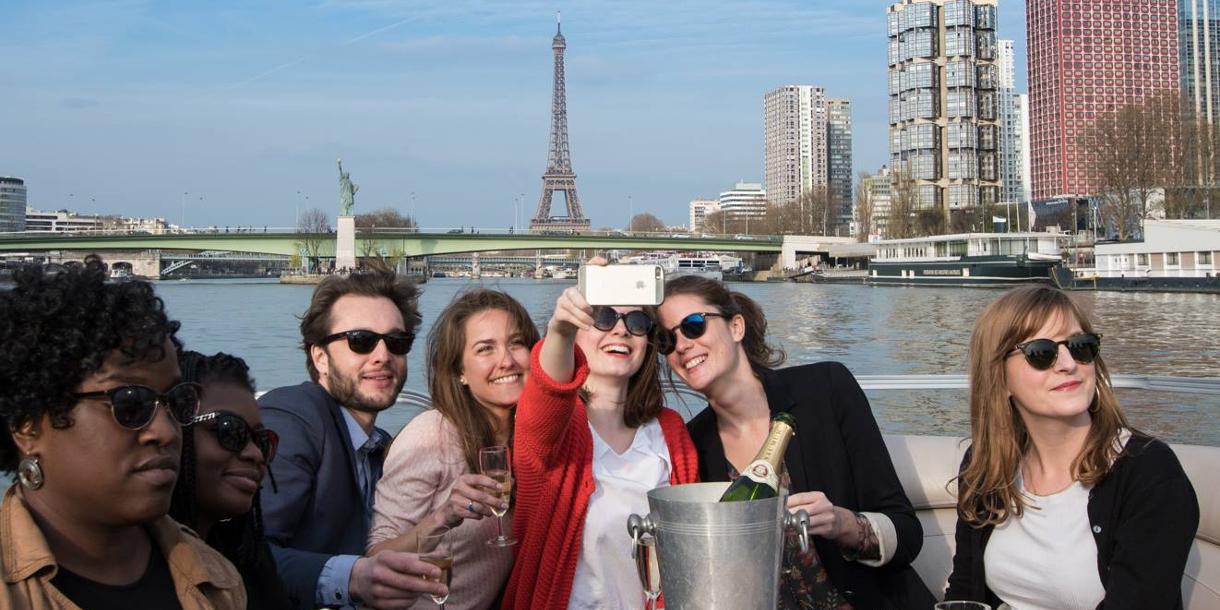 Private Seine river cruises are great options for private celebrations, weddings, marriage proposals, large families, holiday parties, tour groups or corporate travel events. Meals, drinks and entertainment can also be arranged on most semi-private and private Seine cruises.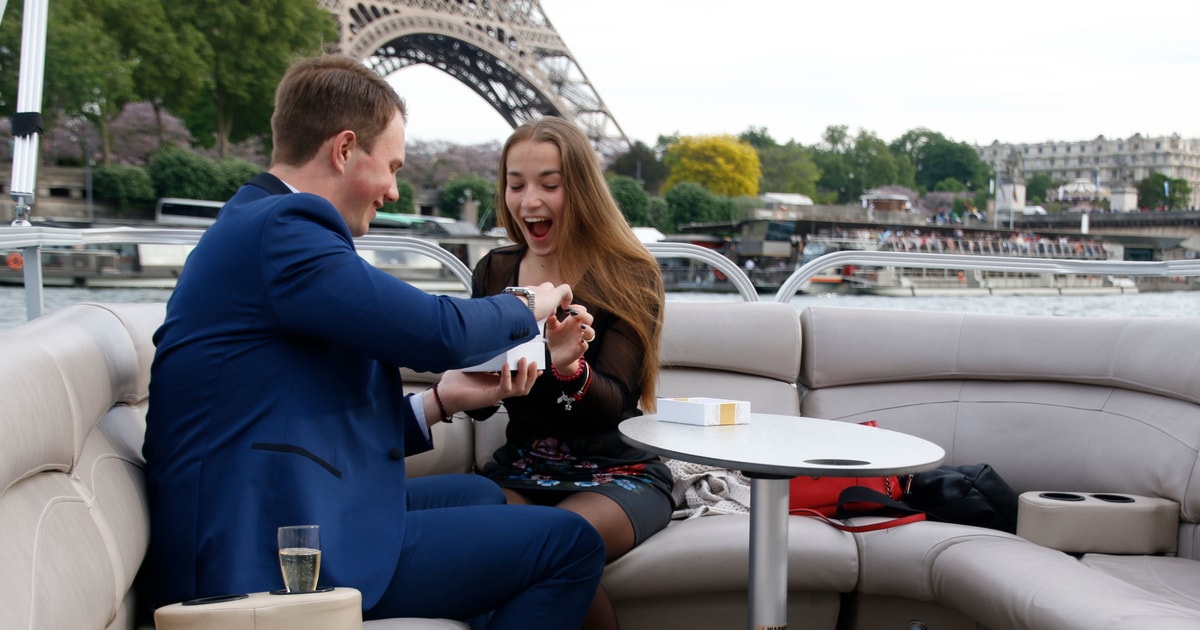 For a completely private cruise, costs usually start at around € 200 an hour for 2 people or a family and can go well above € 2,000 depending on the duration and type of cruise experience you want.
How to Choose a Seine Cruise
So there is a list of companies that offer dinner and private Seine River cruises, in addition to details of seven different companies that run Seine river cruises in Paris!
Summary of Seine Cruise Factors to Consider
So how can you use all of the above information to decide which Seine ride might be best for you? It is a matter of deciding what is most important to you regarding sailing. The main factors you would likely want to consider:
Expression type and languages.
Accessibility (for those with physical movement limitations).
Want to pay extra for a meal, themed excursion, or private ride?
Are you planning to buy a card that includes a Seine cruise, such as the Paris Pass?
If your time in Paris is short and you want to see lots of highlights in one day (and take a Seine River cruise), we recommend this full-day walking tour. Includes a Louvre tour, Eiffel Tower visit, Seine River cruise, Notre Dame view, and Montmartre visit.
Best Time of the Year to Cruise the Seine in Paris
Most companies make Seine River cruises year-round. The high season for companies is usually April to September, and these are the most popular periods for river cruises in Paris. Therefore, have more frequent departures and more boat operations during the summer months.
In addition, rides are more enjoyable if you want to sit or stand outside, especially during the warmer months. It can be very cold or windy to sit outside in winter. If you have a flexible schedule, try to go on an unforeseen day of rain.

Boats can get crowded, especially in summer and during school holidays. The first and last trips of the day are usually less crowded. If you are in Paris during a busy time of the year, we recommend that you go to the port long before your desired cruise to get your ticket and be the first to get on board.
Keep in mind that cruises cannot operate in severe weather and are therefore often canceled during storms. Even if river levels are too high or low, they cannot work. Especially between November and April, water levels can often rise too high making it difficult or impossible for some bridges to cross under, causing ships not to run or change their sails.
And we have come to the end of our journey on this river of information. After this information, you have no reason not to take the best river cruise when you go to Paris!
Stay in flow! 🌊